HOW WE ARE DIFFERENT
When You Hire Other Recruiting Firms:
The client engages a recruiting firm, but neither the client nor the recruiter takes the time to make sure the recruiter has a true understanding of the role, the soft skills desired, company culture, budget, or other nuances important for the position. The client may not even have a complete job description or a feel for compensation.
The recruiting firm starts on the process without speaking with the hiring manager and knowing little about the company or its culture.
The recruiting firm sends over a bunch of resumes to the client.
Often, the client feels that the resumes are not on point, but may move forward anyway with unsuccessful interviews. The client asks the recruiting firm to continue sourcing new candidates without providing any meaningful feedback to the recruiter.
The recruiting firm continues to send resumes hoping to hit on one.
Time goes by and both the client and the recruiter often become frustrated with the process.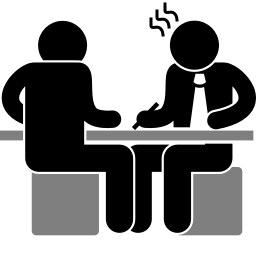 When You Hire The Merker Group:
Our clients understand that it is imperative that we begin each search by meeting with the person hiring for and managing the role, not just Human Resources. We make sure that we understand the key aspects of the role including company culture, budget and soft skills desired. We work as an extension of your HR/recruiting department and should not be viewed as competing with your internal recruitment efforts.
For in-house searches, we send a tailored shortlist of the top candidates that have been fully vetted and are a true fit for the role and the client's needs. We ask the client to provide timely feedback about the candidates.
The client conducts interviews and promptly provides their opinion on the candidates. We stay in communication with the client and candidate throughout the entire process to keep momentum going so we do not lose quality candidates who may become disinterested if the process does not move along.
We ask that our clients keep an open mind in speaking with the candidates we provide on our shortlist and avoid keying in on just one candidate. This provides our clients the chance to get to know multiple, qualified candidates and have more than one option if a particular candidate does not work out (due to compensation, other offer, interest, etc.).
Ideally, the group of candidates is narrowed down and an offer is made. We stay engaged and work with the client through the offer stage, depending on the client's desire.